Standardize, Virtualize, and Maximize Your IT infrastructure
Our end-to-end Data Center Services across a variety of business domains are helping companies in standardizing, maximizing, and virtualizing IT infrastructure.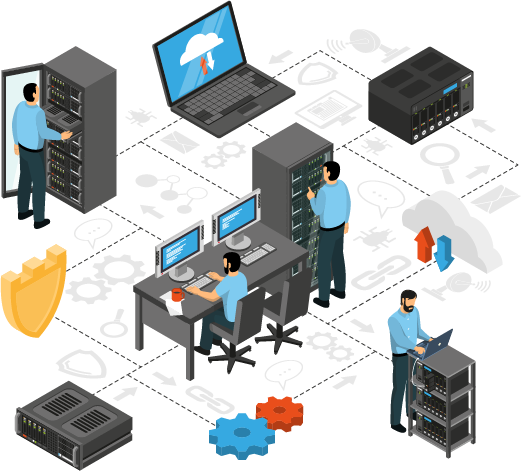 Turnkey
Data Center

Solutions
Data Center

Management
To install, move or decommission your IT equipment, you need a truly reliable service that doesn't compromise on your data safety.
Our comprehensive data center solutions include:
Installation of Servers
Installation of Server Racks
Supporting Infrastructure
Decommissioning and Certified Scrapping
World's leading portfolio of

Data Center

solutions
IT Infrastructure

Solutions
One Union is an established name in sourcing IT Hardware i.e., servers, networking, data storage, data center server racks and all necessary equipment from leading manufacturers. We can also procure refurbished servers from all the top-of-the-line brands, for our valued clients.
One Union is an established name in sourcing all IT related Hardware i.e:
New and refurbished servers from top manufacturing brands.
New and refurbished networking equipment
Data storage equipment.
Data center server racks.
All necessary equipment from leading manufacturers
Complete Array Of Key

Data Center Solutions
Data Center Equipment Sourcing
Managing suppliers and sourcing the right equipment at the right price is a time-consuming task. It can create hurdles and inefficiencies in core business operations. We have direct relations with more than 100 direct equipment manufacturers around the globe. We have the right knowledge of the latest equipment and applications and our global sourcing solutions can help you save resources and time and keep your data center up and running.
Data Center Supply Chain Solutions
Without a reliable supply chain solution in place, you cannot operate efficiently. A forward-thinking supply chain partner that has the capability to operate under stringent global pressure is what you need to keep your data center operations cost-effective and sustainable. Our custom supply chain solutions focus primarily to keep your data center productive all the time and enhance operational efficiencies. Resulting in clear operational visibility and enhanced scalability options.
Data Center Deployment Solutions
Our deployment enhancement service is focused on providing consistency, effective time management, and improved scalability across multidimensional data center deployments. We understand that inventory management holds crucial importance in keeping the data center operational. Our custom-designed solutions will help you manage core inventory levels and make sure you have all the right equipment ready for deployment when needed.
Get Professional Help From Our Certified
Data Center

Solution Architect